This page provides the last original version of Crisis of Conscience, as it was written by Raymond Franz. Later editions of this book have been altered to include commentaries and ideologies from other individuals. Free links to download this book in your preferred language are provided below.
About the Book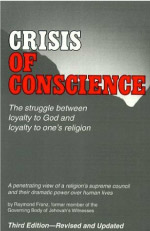 Crisis of Conscience provides a unique insight into the authority structure of the Jehovah's Witnesses, written by a former member of the Governing Body of the religion. The original book allows the reader a view of the decision-making sessions of a religion's inner council, and the powerful, sometimes dramatic impact their decisions had on people's lives.
Although initially written in 1983, the book reveals a distinctive and basic pattern, a pattern which continues essentially unchanged. Rather than reducing the book's relevancy, the passage of time serves to manifest the validity of the evidence offered and the currency of the issues and principles involved.
Free Downloads:
Crisis of Conscience [English]
(Fourth edition, Revised and Updated – May, 2004)
by Raymond Franz (with topical and Scriptural indexes),
420 pages, PDF format.
Other Translations:
Hledání křesťanské svobody [čeština]
GEWETENSCONFLICT [Nederlands]
Crise de Conscience [Française]
Alla ricerca della libertá cristiana [Italiano]
Crise de Consciência [Português]
Crisis de conciencia [español]
FRÅN HUS TILL HUS [Svenska]